We're harvesting Farmyard Shares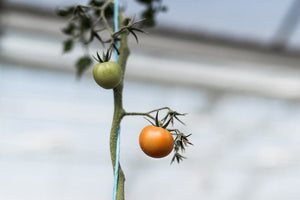 If you've come to pick up your Snuck Share at the farm, you've probably noticed our growing veggies in the farmyard. Even though the cold, wet spring has thrown some challenges our way, plants are determined to grow anyway! On Wednesday, we started collecting them for the first week of our Farmyard Share.
Curious about the Farmyard Share? Don't miss your last chance to sign up! A Farmyard Share is the best way to get a delicious selection of local veggies, grown organically right here on Snuck Farm and by a select few neighbor farmers. We've gently raised our vegetables from seed, cultivating them through sunny days and cloudy ones, rain and shine. We've weeded around them to give them the space they need, and walked carefully around their tender stalks and leaves. Now, they repay us for the work, putting forth vegetables we'll savor all summer long. Just like last year, we're also partnering with a nearby fruit farm to provide you with minimal-spray fresh fruit, harvested at peak ripeness so you can enjoy the sweet flavors right out of the box.
If you're committed to eating locally and going easier on the earth, the Farmyard Share is right there with you. We make it easy to get old favorites as well as new produce you might not have tried before. Explore some of the varieties you can expect, pickup locations, and size options on our website. Then join us to eat well and do good this summer!
-Page
Farmer & Cultivator