Our Greenhouse Manager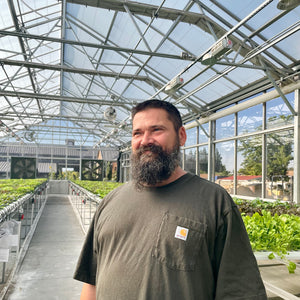 This is Vlad, our Greenhouse Manager on the farm.
Vlad has worked professionally for 20+ years in agriculture, and that doesn't include "grandpa waking him up at 4:00am to help on the farm" when he was young. At the age of 16, he began working in IT and became part of the PC revolution. This process started his passion into engineering and industrial design. He soon realized that he was extremely interested in creating sustainable and efficient living systems to grow all kinds of plants. He dove head first into anything bioponics, aquaponics, or like here at Snuck, hydroponics. Vlad spent many years traveling the U.S. speaking at various symposiums and conferences focusing on that very topic. Additionally, he spent seven years managing a legal cannabis farm and then set off to experience van life with his daughter. 
Vlad was drawn to Snuck Farm because of its community driven mission and the history the land holds. Since Vlad joined our team, there are more greens being produced, fewer bugs being found, and increased innovation in improving our growing systems. 
Vlad's current project in the greenhouse is growing a living cucumber wall to create a protective barrier between the water wall and the end growing channels--creating more space to grow greens and providing us with fresh cucumbers year round!
What is Vlad's favorite green?
 Broccoli shoots. "They taste great, and I'm told they are nutritious."