Green and Growing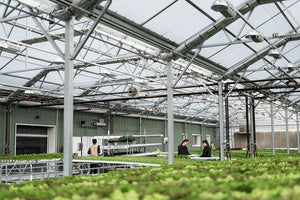 While we do grow some organic veggies in raised beds or traditional farm plots, most of our produce at Snuck Farm comes out of our hydroponic greenhouse. It's not yet the most popular way to grow, but it's a method that's gaining traction as people start to think about their environmental footprint and the problem of shipping food from hundreds or thousands of miles away. Because we strictly control the growing environment, grow year round, and give our plants only the space they need, when they need it, we are able to grow up to 8 times the amount of food as we would using traditional farming methods. And, because we plant intensively and recirculate all of our water, we use 90% less water than we would outdoors. Curious about the process? Here are the steps that take us from seed to plant:
1. We either seed by hand or use a machine called an E-Z Seeder to place tiny seeds into a material called Oasis (it's similar to floral foam.) The E-Z Seeder has holes like an air hockey table, but they suck in air, capturing seeds in a pattern that aligns to holes in the Oasis.
2. The seeds get watered regularly and the Oasis retains enough water and oxygen for the them to germinate as they wait in the greenhouse.
3. As the plants begin to leaf, the Oasis is separated into small cubes: one for each plant. These cubes are placed in a long channel: imagine a wide, horizontal tube with holes cut in the top. Water flows past the growing roots, bringing a carefully regulated mix of nutrients to the greens.
4. The plants do their thing! Most of our fast-growing greens are ready 6-8 weeks from when they're planted. Our job is to keep an eye on them as they grow.
5. When they're ready, we harvest the plants and package them for customers.
6. We start the whole process over with the next crop planting.
As we grow, we learn more and refine our process. It's a constant practice of reflecting on the best ways to live up to our motto while bringing great greens to harvest every week.

-Page
Farmer & Cultivator