Cozy smells of evergreen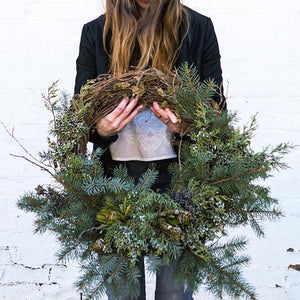 Although 2020 has unfurled in unexpected ways for all of us, in some ways it's much like other years. This year, like the ones before, has passed like a slow sprint. The minutes seem slower than the days, which seem slower than the months, and then all of a sudden: here we are.
This year, like the ones before, we are preparing for the holidays that are approaching. We're anticipating traditions that bring us together responsibly. We're excited to announce our partnership with Jenevieve Hubbard of Beehive Floral Co who will be leading holiday wreath workshops on November 17 and November 19. We have held this popular Snuck Farm tradition in year's past and although you can expect all the evergreen and wild, this year we will be holding them in our main barn and breezeway area, giving everyone plenty of elbow room and extra space to spread out.
For those that want to enjoy the cozy smells and views of an artfully designed, handmade evergreen wreath, but don't much care for the "do-it-yourself" part, we are also offering Jenevieve's handmade artisan wreaths for preorder. These one-of-a-kind wreaths will be ready for pickup at our Farm Stand just in time for Thanksgiving.
Whatever this year has held for you and yours, we're grateful that you're here with us and we're grateful for the opportunity to be in community with you.
Page
-Farmer & Cultivator