Take a tour of our flower garden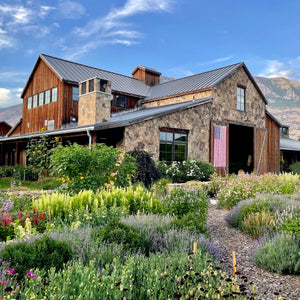 Throughout the farm you will find a variety of gardens, each with their own designated purpose. The Flower Garden is found closest to the barn and is full of both herbs and flowers. You will always spot our tiny co-creators hard at work pollinating, aerating, and fertilizing the soil. The interview below contains thoughts of both Snuck Farm owner, Page, and our Snuck Flowers Director, Fawn. 
What was the process for deciding what would go into the flower garden?
When thinking about what plants to put into this particular garden, we wanted each plant to carry a very distinct purpose. We considered which plants attracted beneficial bugs to keep pests down, which plants brought in pollinators to help the plants produce, whether the plant provided any medicinal benefits to be used in the home, or simply a combination of these purposes. 
For the cut flowers, we also considered which varieties grow well in our particular climate, how the flowers would fit in a bouquet, and plant needs such as harvest time, sun vs. shade, special care requirements, etc. 
What plants are in the garden? 
We have both perennial and annual flowers in the garden. The perimeter and hedgerow through the garden areas are all perennial herbs and flowers. Starting out, this garden was primarily vegetables, however we now grow a variety of cut flowers to provide beautiful bouquets for your home.
Current plants in the garden:
| | |
| --- | --- |
| Perennials: | Annuals: |
| | |
| | |
| | |
| | |
| | |
| | |
| | |
| | |
| | |
| | |
| | |
| | |
| | |
| | |
| | |
| | |
| | |
| | |
| | |
| | |
| | |
What tips do you have for starting your own backyard cut flower garden?
1. Plan your garden appropriately - water, sun, somewhere you are willing to pillage your flowers.
2. Check the plant tags. Look for varieties that are at least 15-18 inches tall minimum.
3. Think about what makes a good arrangement or bouquet. 
Focal
Disk
Filler
Foliage
Line
4. Don't go overboard choosing varieties. Start small and learn all the ins and outs of each variety before adding more. www.segolilyflowerfarm.com/blog
Zinnia
Sunflowers
Cosmos
Basil
Celosia
5. Do your research. Is the flower a warm or cool season plant? Should you plant successions of this plant? Perennial or annual?  Should you pinch it? Does it need netting? When is the best stage of harvest? What is the post harvest care for this bloom?



What resources does Snuck Farm provide for starting my cut flower garden?
Through Snuck Flowers, our farm supplies both flower farmers and backyard growers high quality flower plugs that grow well in our region and are bred for beauty, instead of travel. New plug varieties will be available starting October 1st at https://snuckfarm.com/pages/snuck-flowers.
We also serve as a resource for education and supplies to help you have incredible growing seasons. Each year Fawn, the Snuck Flowers Director and Sego Lily Flower Farm owner, provides a four-month, hands-on Backyard Cut Flower Course based right here at Snuck. In this course, Fawn teaches the basics of flower growing, while assisting you in applying your learnings through working with your very own flower plot on our farm. She also provides group consulting and a variety of flower workshops throughout the year for our community.