Snuck Shares Week #11, 2021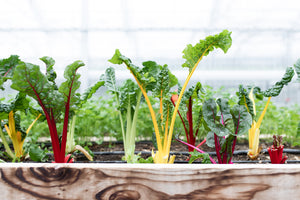 Hello Farm Members! 
Here's what you'll find in your shares this week!
Family Share:
Salad Mix, 1 bag
Lettuce Heads, 2 heads (Butterhead & Summer Crisp)
Kale Microgreens, 1 bag
Baby Romaine, 1 bag
Living Basil, 1 plant
Spinach, 1 bag
Classic Shares:
Salad Mix, 1 bag
Butterhead, 1 head
Kale, 1 bag
Broccoli Microgreens
Just Lettuce Share:
Salad Mix, 1 bag
Lettuce Heads, 2 heads (Butterhead & Summer Crisp)
UPCOMING CHANGES TO YOUR SHARES
As of March 31st, we will no longer offer the Family Share, or the Just Kale shares. 
The Family Share will merge with the "Classic Share" and become a "Large" share:

The Large size includes:

1 bag of our Premium Salad Mix
1 lettuce head
2 oz. bag of Kale Microgreens
1 bag of a "farmer's choice" green that will rotate weekly.
Weekly price will now be $18 (was $25)

The current "Just Lettuce" share will become the "Medium Share". 
With any share, you'll be able to add additional items each week through your online account.

Items may include: Arugula, Baby Romaine, Kale, Summer Crisp, Butterhead, Pea Shoots, Bok Choy, Salad Mix, and other greens. We will also be adding more farm items like dressings, granola, soaps, coffee and more!

$1 delivery fee:

In order to help cover delivery costs, we will be charging a $1 fee per week for all customers, except for those at our Snuck Farm pick-up location.

The Just Kale Share will be cancelled. For those on that share, please sign up for a Small, Medium or Large share.