Snuck Share Week #9, 2020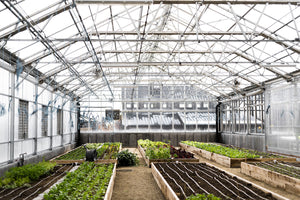 Hello Farm Members,
We deeply appreciate your membership. We know you go out of your way each week to pick up your share. Whatever your reason for it - you like our greens, you care about local food, or you have a lot of mouths to feed - your membership allows us to continue growing healthy food for our community. Something in what we're doing speaks to you, and in return, your actions speak to us.
To thank you for all you do, we've worked with Olio Skin Care to put together a members-only soap-making workshop that we're offering at-cost just to you. On March 19 from 6:30-8:00 pm, join us as we explore how to make skin-softening cold-process soap. The Olio artisans will guide you through basic safety considerations. Then, you'll get hands-on, combining Snuck Farm basil, water harvested from the Wasatch Mountains, and other nourishing ingredients to create a soothing, all-natural soap. You'll leave with a 1-lb bar of molded soap and directions for drying and curing it at home - as well as invaluable new experience and knowledge. And after your soap is cured, you'll get the benefits of your greens every time you wash your hands!
We can't wait to share this special event with you. Visit our website today to sign up.
-The Snuck Team
Here's what you'll find in your shares this week:
*this is a bread/yogurt week*
Family Share: 
Salad Mix, 1 bag
Butterhead Lettuce, 2 heads
Kale, 1 bag
Red Butterhead, 1 head
Mustard Greens, 1 bag
Cilantro, 1 bag
Classic Share:
Salad Mix, 1 bag
Butterhead Lettuce, 1 head
Spinach, 1 bag
Pea Shoots, 1 bag
Just Lettuce:
Salad Mix, 1 bag
Butterhead Lettuce, 2 heads